Reported by CCTV Often! Unveiling the "Uniqueness" of the Far East's UHV Conductors
Author:系统管理员
Published: 2023-02-23
Hits:
On February 15, the "Half-Hour Economy" of CCTV-2 focused on the cable industry with the title "The Industry Town in My Hometown: Cable Town 'Strings' the New Wealth of Rural Revitalization", and in-depth reported that Far East had fostered innovation to make the development of cable industry speed up and assist the regional economy to develop on the "fast lane". Wherein CCTV focused on Far East's UHV conductor products.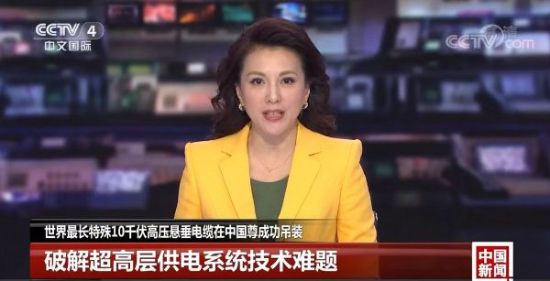 So, what are the "unique features" of the UHV conductors independently developed by Far East? Today, let's learn about the energy-saving conductors project of the Far East's UHV project together to explore the breakthrough of Far East Cable on the road of technical innovation and know more about the story behind the CCTV report.
Seize the Opportunity and Make Further Efforts to Develop UHV Products
According to statistics, in the process of electric power transmission, if the electric conductivity increases by 1%IACS, the annual energy-saving amount per kilometer of the line is about 1,000-2,500 KWH, which is equivalent to 0.33-0.83 tons of standard coal, and the CO2 emission can be reduced by 0.86-2.2 tons. As an advanced electric power transmission technique at present, the UHV project has obvious comprehensive advantages such as long distance, large capacity, low loss, and less occupation, which is an important economical and environment-friendly technology to ensure the security of energy supply. Meanwhile, UHV promotes national development with its significant advantages such as long industrial chain, strong driving force and obvious economic and social benefits. The construction of UHV has become an important measure of the national energy strategy.
As a leading enterprise in the cable industry, as early as 2008, Far East participated in the construction of the world's first commercial operation of "Xiangjiaba-Shanghai ±800 kV UHVDC Power Transmission Demonstration Project" as a strategic supplier, and showed its strength in the construction of the national electric highway of "West-to-East Power Transmission". Over the years, Far East has made continuous technical breakthroughs in the construction of the UHV project, solved many key problems, and contributed core strength to the construction of the UHV project.
With first-class R&D capability, excellent quality, and perfect sales and service system, Far East's UHV conductor products have been highly recognized by customers and won the bid for major national projects more than once. Up to now, UHV high-conductivity aluminum alloy series products have been successfully applied in dozens of UHV power transmission lines such as "Weifang - Linyi - Zaozhuang - Heze - Shijiazhuang 1,000 kV UHVAC Project", "Qinghai - Henan, Northern Shaanxi - Wuhan ±800 kV UHVDC Project", "Yazhong - Jiangxi ±800 kV UHVDC Power Transmission Line Project", "Baihetan - Jiangsu ±800 kV UHVDC Power Transmission Project" "Baihetan - Zhejiang ±800 kV UHVDC Power Transmission Line Project", etc, covering provinces and cities including Guangdong, Inner Mongolia, Jiangsu, Xinjiang, etc, and various environmental conditions, realizing power transmission with large capacity, low loss, high reliability, high efficiency, and long-distance. At present, all application scenarios are in good operation and users are satisfactory.
Pursue Excellence and Focus on Technical Innovation and Breakthrough
The UHV project has a large span and is faced with a complex and harsh environment. The power transmission lines may be up against a variety of environments, such as strong wind, icing, long distance, large span, and large altitude difference. Developing new energy-saving series conductors that can meet the complex and harsh environment and realize the safe power transmission of the UHV power transmission project is the principle that Far East has been practicing in the process of researching and developing energy-saving conductors for the UHV project.
As the leader in the cable industry, Far East Cable has accumulated rich experience in the design, development and laying of UHV cable products, and has developed a number of high-performance UHV conductor products, including 1,250 mm2 large-section conductors, aluminum conductor composite core heat-resisting aluminum alloy conductors with high elongation, aluminum conductor composite core duralumin conductors with high elongation, aluminum alloy core aluminum stranded conductors with high conductivity, etc, for the construction of the UHV project to provide a full range of full-cycle services such as project design, product selection, installation guidance, field testing.
In recent years, Far East has made breakthroughs and achievements in tackling key techniques of UHV conductors, research and development of products, complete set of equipment, supporting services and market expansion, etc., and has been widely recognized by the government and the industry. It has successfully won the National Science and Technology Progress Award, China Patent Award of Excellence, Jiangsu Provincial Science and Technology Award and other provincial and national awards.
The breakthrough of new techniques cannot be made without the R&D team's round-the-clock testing and experiments. With the help of current testing equipment and scientific management methods, through the repeated testing of multiple indicators such as resistivity, tensile strength, elongation and so on, the optimal aluminum alloy formula has been developed and selected to shorten the testing cost and develop the conductors in different environments of the UHV power transmission project.
Energy-saving conductors used in the UHV project cannot obtain a number of national awards without the Company's attention and support for technical innovation. Over the years, Far East has developed open cooperative relations with many universities and research institutes in producing, learning, researching and applying. It has the earliest research institute for cable technology and the first-class R&D team in the industry, and makes rapid breakthroughs by collecting resource advantages. Now Far East has research bases such as the post-doctoral research workstation, academician & expert workstation, national enterprise technology center, and national accredited laboratory, which provide a solid foundation for technical innovation and development of Far East.
The strategy of "carbon peak and carbon neutrality" is an opportunity for China to develop UHV. UHV power transmission lines are related to the national economy and people's livelihood. The application of the series of energy-saving conductors developed by Far East in this field in a number of key projects has responded to the national strategic requirements and is of great significance to saving land resources, improving the transmission capacity of power transmission lines and helping China build a safe, efficient, clean and low-carbon energy system.
In the future, Far East Cable will take advantage of the trend and continue to adhere to innovation-driven and technology-led development and will march towards the strategic goal of "being the Top 1" in the world to lead the high-quality development of the industry and promote the construction of national UHV project and smart grid with timely and best products and services.