Analysis on Market Prospect of New Energy Vehicle and Power Battery 2017
Author:PhoenixNet
Published: 2017-04-24
Hits:
The development of new energy passenger car is relatively sound. The total credit combination system boosts its growth in the medium and long term. In 2016, the yield of new energy passage car was 344 thousand vehicles, and the sales volume was 336 thousand. Among that, the yield and sales volume of BEV were 263 thousand and 257 thousand, a year-on-year increase of 73.1% and 75.1% respectively.
The future new energy passage vehicles are expected to benefit from the long-term mechanism of the Points System. Conservatively predicted, CAGR will reach 40% before 2020 comes. The peak time for the growth of new energy coaches has been over, its future production and marketing will remain relatively stable. But hopefully, the new energy special vehicle will benefit from the implementation of the Recommended Directory and the start of the replacement of cargo vans for power-driven vehicles, and enter the rapid growth period. The CAGR is expected to be near 30% before 2020 comes. Taken together, in the period from 2017 to 2020, the annual total output of new energy vehicles is conservatively predicted to be 700 thousand, 1.03 million, 1.47 million and 2.04 million vehicles with the CAGR reaching 40%. Benefiting from the increased sales volume of future new energy vehicles, the vehicle power battery demand of middle stream during the period from 2017 to 2020 is expected to reach 35GWh, 48GWh, 69GWh and 96GWh. Thanks to the ternary permeation among the passenger car, cargo van and coach, the ternary battery demand can hopefully reach 17GWh, 29GWh, 47GWh and 71GWh, faster than the overall growth rate of the battery industry.
Production Forecast of China's New Energy Vehicle (vehicle)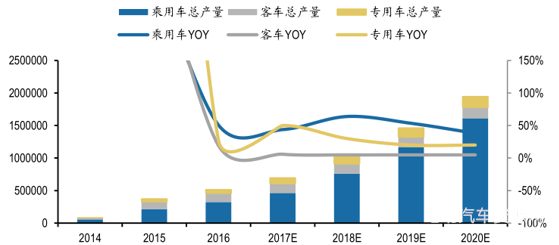 2. The expansion of power battery production accelerates. The key is to win downstream customers
Since 2016, the power battery enterprises have accelerated their capacity. Meanwhile, a growing number of players have appeared on the market. According to the incomplete statistics of the company's planning, in 2017 the planned production capacity has exceeded 100GWh. Considering the RAMP factors, the effective capacity remains higher than the total demand. Hence, with more players entering this industry and enterprises' continued production expansion, the industrial competition will be unceasingly intensified.
Capacity and Plan of Lithium Battery Enterprises (GWh) from 2015 to 2017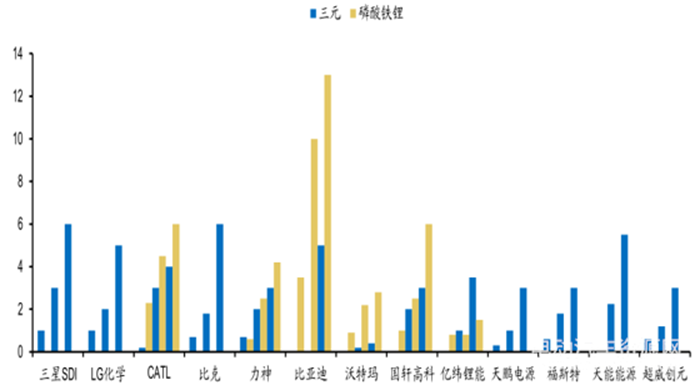 Power battery industry continues to be divided. The downstream customers bound to the leading enterprise of finished automobile enter the rapid growth passage. According to the analysis of models in the catalogue, the leading enterprises of passenger cars and coaches will continue to expand their market shares in 2017. The strong becomes stronger. Thus, when the overall capacity of the industry is expanded, midstream lithium battery enterprises should bind themselves with leading quality downstream customers, especially the passenger car supply chain, to earn the enterprises a growth rate higher than the industrial one, thus keeping becoming divided from the low-end capacity.