"Seizing the Opportunity and Going Global" to Facilitate the Development of Energy Storage Blue Ocean Market
Author:系统管理员
Published: 2023-08-30
Hits:
  In the current context, the world is undergoing accelerated major changes unseen in a century with numerous new problems and challenges such as the transformation and development of global energy and climate change. Efforts should be made to jointly safeguard the security of the industry chain and supply chain of international energy resources, actively address global climate change, and effectively promote the green and low-carbon economic and social development of the countries along the "Belt and Road" by driving the high-quality development of energy cooperation under the "Belt and Road" Initiative and constructing a more environmentally friendly and inclusive energy future. By doing so, a solid foundation for energy cooperation can be laid to advance a world characterized by lasting peace, universal security, shared prosperity, openness and inclusiveness, and environmental beauty.

  During the National People's Congress and the Chinese People's Political Consultative Conference, Liu Zhongmin, a member of the CPPCC National Committee and an academician of the Chinese Academy of Engineering, proposed that international energy cooperation should be deepened based on the "Belt and Road" Initiative. He emphasized the need to enhance international technological cooperation in emerging fields such as hydrogen energy, energy storage, nuclear energy, and smart energy through the joint establishment of joint laboratories or research centers with relevant foreign institutions possessing advantages. By engaging in technological cooperation and drawing on experience, active integration into the global innovation network for clean energy technologies would be realized to facilitate the export of China's domestically advanced clean energy technologies and industries.
  Energy storage technology is an effective solution to address the fluctuation and intermittency of new energy systems dominated by wind and luminous energy. Highly anticipated by the industry, it enables large-scale integration of renewable energy, thereby propelling the transformation towards low-carbon energy. With the promotion of the "carbon peak and carbon neutrality" goal, the strategic layout of the "Belt and Road" Initiative presents favorable development opportunities for energy storage. Statistics indicate that in the first half of this year, the newly added and operational scale of new energy storage reached 8.0 GW/16.7 GWh, surpassing the full-year scale of 7.3 GW/15.9 GWh added last year. China has become the world's most active country in terms of foundational research, technological innovation, and application demonstration in energy storage.
  In recent years, as the central government vigorously advances the energy transition, various provinces have also issued favorable policies. In March of this year, Guangdong Province released the Guiding Opinions on Promoting the High-Quality Development of the New Energy Storage Industry in Guangdong Province, which encourages new energy storage enterprises to participate in the "Belt and Road" Initiative and establish a national-level logistics center for the import and export of new energy storage products.
  As the global pace of constructing new power systems accelerates, countries along the "Belt and Road" are exhibiting an increasingly strong demand for power technologies. With advanced technologies, new energy storage, as a crucial part of shaping new power systems, holds immense potential for cooperation between these countries and relevant enterprises in China. Facing the overseas market, Far East Battery, a subsidiary of Far East Smarter Energy Co., Ltd. (referred to as FESC, stock code: 600869), is actively expanding its presence. In 2022, Far East Battery received overseas residential energy storage orders worth over RMB 1 billion. Among them, the PowerPyramid high-voltage stack and the PowerArt low-voltage wall-mounted equipment gained popularity among European households due to their modular design, flexibility and convenience, safety and intelligence, and other features.
  Far East Battery has established a comprehensive industry chain layout covering battery cells, modules, battery systems, and energy storage systems. Through the "cylindrical cell + pouch cell + prismatic cell" technologies, the company has developed a diversified product matrix including portable power banks, residential energy storage, industrial and commercial energy storage, and large-scale energy storage systems, which allows for applications across various scenarios, such as the user side, grid side, and new energy generation side, achieving multi-energy complementarity and integration of "power source, grid, load, and storage".
  With rapid technological updates and iterations of products, Far East Battery has upgraded its original 50Ah pouch and 305Ah prismatic lithium iron phosphate batteries, which are currently in the A-sample optimization stage. The capacity of the pouch sodium-ion battery cell is 38Ah, with an energy density of up to 150Wh/kg and a cycle life of over 4,000 cycles, while the capacity of the prismatic sodium-ion battery cell is 250Ah, with an energy density of up to 155Wh/kg and a cycle life of over 5,000 cycles. Additionally, Far East Battery has initiated the research and development of new lithium manganese iron phosphate energy storage cells and will apply the research outcomes to power supply-side energy storage scenarios, empowering emerging industries with new technologies.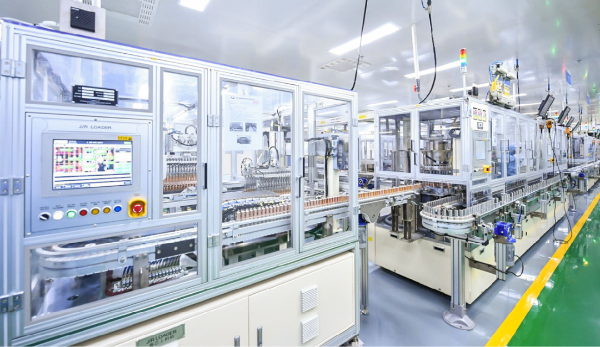 Continuous technological innovation is inseparable from a well-established R&D team. Far East Battery boasts an R&D team mainly comprising doctors, masters, and senior engineers. With advanced testing equipment and a material research laboratory, the team consistently upgrades the technologies by focusing on material platform construction, process innovation, and the establishment of a new system.
  Moreover, Far East Battery has established extensive industry-university-research cooperation relationships with Chinese Academy of Sciences, Xiamen University, Huazhong University of Science and Technology, Xi'an Jiaotong University, Harbin University of Science and Technology, and other key universities or academic institutions. It has operated R&D technology service platforms such as "National Postdoctoral Research Workstation" and "Academician Workstation". Recently, it has partnered with Peking University to establish the New Energy Materials Joint Studio, aiming to accelerate the transformation of cutting-edge technological achievements and the accumulation of original technologies in the field of new energy batteries and further enhance Far East Battery's core competitiveness and competitive advantage in the market.
  Looking ahead, Far East Battery will intensify its innovation efforts by relying on its industrial advantages and foundation. It will seize the opportunity presented by the "Belt and Road" Initiative to expand its presence in countries along the route and enhance international energy storage cooperation for mutual development.